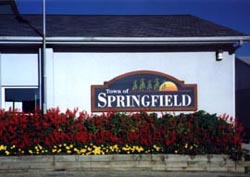 The Town of Springfield, located in northwestern Dane County, Wisconsin is predominately a farming community. The town is about six miles square bordering both sides of U.S. Hwy. 12.
A population of approximately 2,900 enjoy the rural atmosphere, with its gently rolling topography. We are served by three different school districts, four post offices, three EMS departments and two fire departments.
We encourage Springfield residents and visitors to explore our website.  We welcome your suggestions for information you would like us to include here, or your ideas on how we can make the site more useful to you. Thank you for visiting us on the web!
Town News and Announcements
June 30, 2022
Large Item Drop-Off – Saturday, Oct 1 2022
SATURDAY, October 1st
8 am – 12 pm
NO drop offs the night before.  
Dumpsters will be available in the Town Hall parking lot.  Bring help if necessary, as you will need to unload your items into the dumpster. 
In an effort to limit drop offs by non-residents and keep costs low to continue offering this service to our residents, you may be asked to provide current proof of residency, such as a driver's license, utility bill, lease, etc. that shows your address in the Town of Springfield.  Please come prepared to show such proof of residency if asked. 
Items allowed include:
furniture,
rolled carpet and lumber up to 4' max length,
mattresses/box springs,
doors,
wood windows,
toilets,
sinks,
water softeners
humidifiers (but NOT dehumidifiers). 
Items NOT allowed include, but are not limited to:
tires,
used oil,
compost materials
dehumidifiers
automotive & marine batteries. 
A reminder that hazardous materials (paint, pesticides, petroleum products such as oil and solvents and explosives) are not accepted.  These can be dropped off at the Clean Sweep program at 7102 US Hwy 12, Madison.  For details on what can be recycled, bulky item disposal, new resident information and FAQs, please visit the Town's page of Pellitteri's website.  Additional refuse or recycling carts and excess pickups can be ordered directly from Pellitteri Waste Systems at 608-257-4285.  Volunteers to help with this event are always appreciated. Call the Town Hall at 849-7887 if you can help for a few hours.